Griaß di beim Bergbauernwirt im Allgäu
When God created the Allgäu, he was certainly very happy!
With the beautiful landscape of the Allgäu, the mountains and lakes, the cordial people along with the special customs and customs, but also with the special Allgäu food and drinks.
For many centuries, the Allgäu had preserved without major changes in its originality. But in the last hundred years, the world has changed much faster than ever before. Of course, this development did not stop at the Allgäu.
But we do not want to forget the traditional, the original Allgäu and not lose it. Therefore, you can discover something new at the mountain farmer in Bolsterlang and experience "original":
Holiday in the Allgäu and holiday in the mountains means old Allgäu traditions, hiking and climbing in the Allgäu, archery in Bolsterlang, cycling by mountain bike or e-bike, in winter skiing in Bolsterlang, Oberstdorf or in the Small Walsertal, cross country skiing and skating on the doorstep , plus a good beer, old Allgäu dishes, Allgäu cheese and much more.
Look forward to many original experiences in the Allgäu mountains
Manuela and Wolfgang
How it all started ..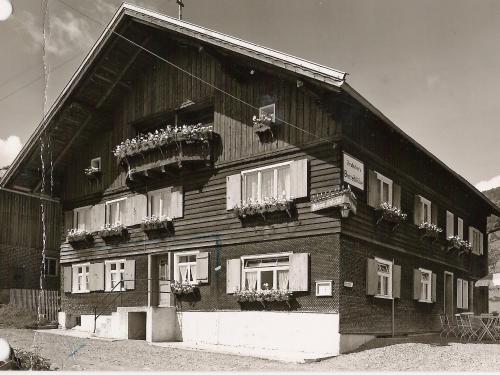 The origin of the hostel - a small guesthouse with snack bar
The photo was taken in the 1960s

today
Der Bergbauernwirt in the Allgäu
After months of searching we discovered in the winter of 2004 the then Pension Tietz, whose owner was looking for a successor. Right away we fell in love with the house and its surroundings. Just the view of the summits of the Allgäu Alps around us has enchanted us. Here we wanted to realize our dream of a cozy mountain inn with many special offers.
From the beginning it was important to us to bring the original of the Allgäu to our guests. That's why we largely use regional products in the kitchen.
We have gradually redesigned the restaurant and rooms in recent years and made them more and more comfortable. Every year something new is added.
According to a saying, there is no "you" in the mountains anymore. It should be the same with the mountain farmer. We say hello "Griaß Di" and "Pfiat Di" to say goodbye. This is friendly and warm, here you have friends. Here you can "experience original", relax on holiday in the Allgäu and get in the Allgäu nature new power for everyday life.