Restaurant und Biergarten beim Bergbauernwirt in Bolsterlang im Allgäu
Allgäuer Schmankerl genießen - alte Allgäuer Gerichte und Altbewährtes auf dem Teller!
Im Restaurant oder im Biergarten:
hausgebrautes Bier, Spezialitäten der Zötler Brauerei Rettenberg, Limonaden und Mineralwasser aus dem Allgäu, ...
Werft einen Blick in unsere
Speise
- und
Getränkekarte
Öffnungszeiten im Restaurant und Biergarten beim Bergbauernwirt
Montag ab 15.00 Uhr geöffnet
Dienstag und Mittwoch nur für Hausgäste geöffnet
Donnerstag ab 15.00 Uhr geöffnet
Freitag ab 15.00 geöffnet
Samstag ab 15.00 Uhr geöffnet
Sonntag ab 15.00 Uhr geöffnet
Warme Küche jeweils bi


Für Tischreservierungen ruft uns bitte an unter Telefon 08326 - 7444

Bitte denkt zum Wohle aller Gäste daran, dass es ab 22.00 Uhr im Biergarten ruhig sein soll.

Wir sind bis 22:30 Uhr für euch da, sollten alle Gäste schon vorher schlafen gegangen sein, schließen wir die Stube auch schon früher. Für geschlossene Gesellschaften ist auch eine spätere Schließzeit nach Vereinbarung möglich.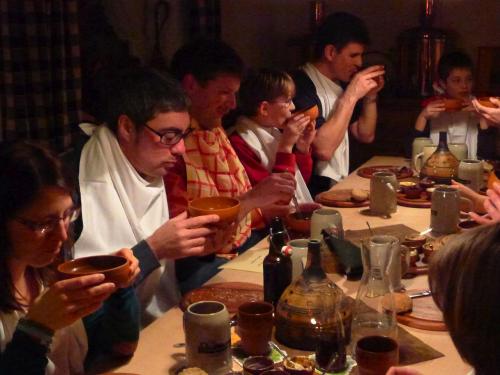 Everything cheese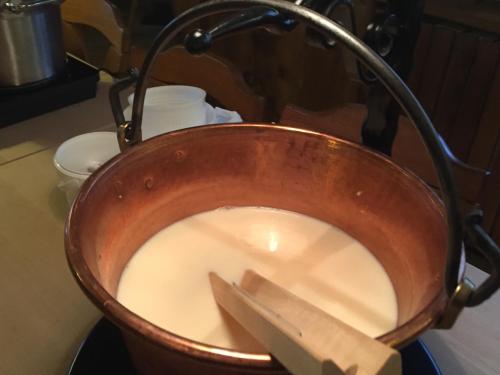 Make cheese and make cheese cats
How is cheese made? How are Allgäu Spaetzle made? How do I make delicious Allgäuer Kässpatzen from the fresh spaetzle? You want answers to these questions? Do you want to help yourself? Then we look forward to seeing you. Every Wednesday afternoon from 16:30 we would like to cheeses with you, plane spaetzle and put the Kässpatzen in the oven.
In a small group of at least three to a maximum of eight people, we will show you the individual steps. We start by heating the fresh cow's milk from Neighbor's stable, making a simple feta-style cheese.
In between, we prepare the dough for the Kässpatzen, plane the sparrows, rub the mountain cheese ... and finish with the homemade Kässpatzen with a crispy salad.
From the cheese you can take something home and try it the next day. Please allow about 3 hours time.
Please register until the day before, 17:00 clock. Your contribution is 19, - € per person, children up to 14 years (accompanied by an adult) 14, - €.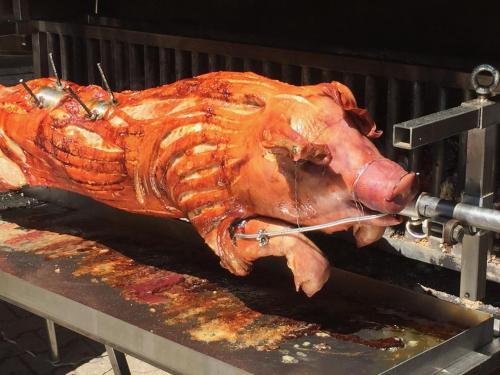 Migelig Obed
Erlebt den Migelig Obed beim Bergbauernwirt im Allgäu
migelig - das ist ein Allgäuer Begriff für "gern gemocht und angenehm".
Probiert zusammen mit der Familie, mit Freunden, allein oder zu zweit Bekanntes und weniger Bekanntes aus der Allgäuer Küche für Euro 16,90 pro Erwachsenem und Euro 10,90 pro Kind.
Die traditionelle Allgäuer Küche ist gekennzeichnet durch die Zutaten, die es in früheren, eher einfachen Zeiten ausreichend gab. Das waren vor allem Eier, Mehl, Milch, Fett und Sauerkraut, dazu Gemüse und Kräuter aus dem Bauerngarten und gelegentlich Fleisch vom eigenen Schwein, Gockel oder Rind.
Wir haben alte und neue Allgäuer Rezepte gesammelt. Daraus ist eine (wechselnde) Auswahl von 15 Allgäuer Spezialitäten in vier Gängen entstanden.
Wir servieren bei jedem Gang drei bis vier kleine Portionen Allgäuer Leckereien. Dazu gibt es Rezepte und kleine Geschichten rund ums Allgäu.

Termine zur Zeit nur für Gruppen ab 12 Personen auf Vorbestellung möglich!